A new and amusing restaurant for bisa
A minimalistic yet contemporary take on a classic beer and bistro, Bisa's new restaurant is dedicated to honoring the art and craftmanship of brewing beer.
25 September 2022
1 min. reading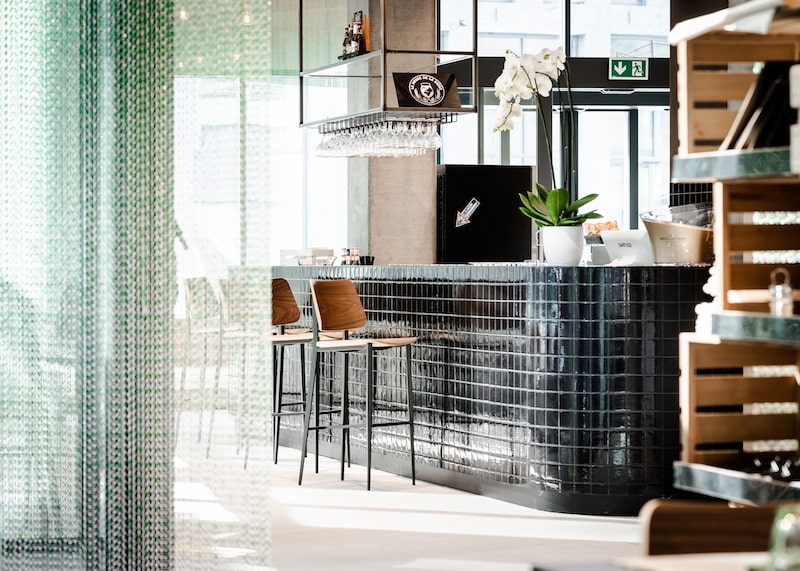 Bisa partnered with La Cellula Lab to develop a brand-new restaurant concept themed around the art of brewing beer, in collaboration with Feldschlossen. The winning trio created a unique experience, pairing a lively beer bar with a high-quality bistro that serves elevated brasserie food, a concept known as « bistronomie ». The restaurant is located in the up and coming neighborhood of Pont Rouge, in Geneva.
The overall design is minimalistic and contemporary, it draws inspiration from the brewing process. The color structures and chosen palettes reflect the key elements used in the process; malt, hops, yeast and water. The bar section of the restaurant is covered in black tiles, which resemble mosaic. It represents the meticulousness and precision involved with making beer. Floor-to-ceiling metallic curtains divide the space into sections and recall artisanal weaving; an ancient art which requires savoir-faire. The hops flower is represented in several areas, as a large hanging sculpture but also as an iconic logo.